Empress Navier Ellie Lazlo (née Trovi) is the protagonist of the Remarried Empress series. She is the current Empress of the Western Empire and the former Empress of the Eastern Empire.
History
Early on, Navier mentions that she was hand picked by the previous Emperor, Osis III, to marry his son, Prince Sovieshu.[1] Her family, House of Trovi, had perviously had daughters who married into the imperial family. Despite having always been close childhood friends, Navier considered her marriage to Sovieshu as a "marriage of convenience" rather than love. She spent her life preparing for the role of becoming Empress and leading her country diligently.
Plot Summary
Webtoon:
In the first episode of the WEBTOON, Navier is attending divorce court since Sovieshu wants to divorce her and marry Rashta instead. Navier states that she accepts the divorce, surprising nearly everyone in the room except for two people: Duke Ergi and the then King Heinrey of the Western Kingdom. Marquis Falhan protests her decision, while Rashta smirks as she pretends to be anxious and plays innocent. Navier is asked again if she accepts Sovieshu's request for divorce, and she replies with a resounding "Yes. I accept." After accepting the divorce, Navier surprises everyone in the room again, by saying that she'd like approval for her remarriage. The High Priest asks her whom she wishes to remarry. This is when Heinrey makes his grand entrance, revealing his presence at the divorce hearing. Heinrey moves to stand beside Navier as everybody else in the room starts exclaiming their surprise at Heinrey's sudden appearance.
The webtoon proceeds to go back a few months, to when Navier was still the Empress of the Eastern Empire. This is the start of the lead-up to the events of the divorce hearing.
Personality
Navier is described as being the perfect Empress. At first glance, she appears to have a cold, methodical demeanour, and is always composed. For those who spend a little more time with her however, Navier is an intelligent, kind, and very patient woman, who has unconditional devotion to her subjects. She has a close relationship with her ladies-in-waiting, particularly Eliza and Laura, with the latter always speaking freely to Navier about her hatred for Sovieshu's infidelities without fear of retribution. That being said, Navier's treatment of Sovieshu, after he brings in his mistress especially, severely differs from how she treats everyone else. So-much-so that Sovieshu describes her as frigid, reserved, and barely flickering with emotion. This of course is far from the truth, as Navier is depicted as merely being one who has control of her emotions, which is especially important for someone in her role where eyes are on her at all times. She is not without her vulnerable moments and will cry alone in her room when she needs to, or confide in those closest to her. Navier cares greatly for those around her and is always willing to lend a helping hand in the best way she can, forever acting selflessly for the wellbeing of others even if people like Sovieshu claim instead that she's selfish and cruel. Navier has a fun loving streak and tends to throw playful verbal jabs or crack jokes, though she admits most don't tend to understand her humour. Her way of thinking is very practical and logical rather than emotional, and she won't engage in things that do not concern her or need her interference, this is due to being shaped into being a leader since her childhood.
Physical appearance
Although her height and weight are never formally mentioned, Navier appears to be of average height and has a slender build. She has striking green eyes and waist-length blonde hair typically adorned with flowers and jewels.[2] Navier always wears the most elegant of gowns, typically in her signature color: red, and has her hair styled in numerous different fashions. Navier is usually seen in dark colors the complete opposite of Rastha who is usually dressed in pastel colors. She almost always has her hair done it's only ever out when she's going to bed. Navier is know across multiple kingdoms for extreme beauty.
Relationships
Love Interests
Friends
Family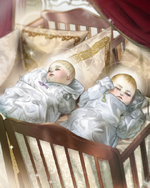 List of appearances
Episode 1

Episode 2

Episode 3

Episode 4

Episode 5

Episode 6

Episode 7

Episode 8

Episode 9

Episode 10

Episode 11

Episode 12

Episode 13

Episode 14

Episode 15

Episode 16

Episode 17

Episode 18

Episode 19

Episode 20

Episode 21

Episode 22

Episode 23

Episode 24

Episode 25

Episode 26

Episode 27

Episode 28

Episode 29

Episode 30

Episode 31

Episode 32

Episode 33

Episode 34

Episode 35

Episode 36

Episode 37

Episode 38

Episode 39

Episode 40

Episode 41

Episode 42

Episode 43

Episode 44

Episode 45

Episode 46

Episode 47

Episode 48

Episode 49

Episode 50

(flashback)

Episode 51

(flashback)

Episode 52

Episode 53

Episode 54

Episode 55

Episode 56

Episode 57

Episode 58

Episode 59

Episode 60

Episode 61

Episode 62

Episode 63

Episode 64

Episode 65

Episode 66

Episode 67

Episode 68

Episode 69

Episode 70

Episode 71

(flashback)

Episode 73

Episode 74

Episode 75

Episode 76

Episode 77

Episode 78

Episode 79

Episode 80

Episode 81

Episode 82

Episode 83

Episode 84

Episode 85
Gallery
References